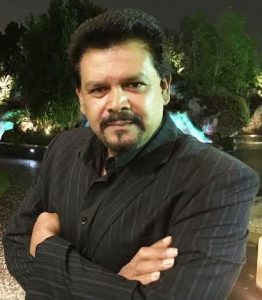 Dr Satish Rai is Sydney based academic, film/tv producer, journalist and community development worker. He was born in Fiji where he received his primary, secondary and part of his tertiary education (University of South Pacific & Fiji School of Medicine. He migrated to UK in 1980 and after working as a Metropolitan police officer for five years, (1982-1987) he retired to complete his BA (Hons) degree in Sociology, majoring in race equality issues.
He became a politician (elected councillor in London Borough of Greenwich, 1990-94), and a community development officer; becoming a Principal Race Equality Officer for a London Borough Council. I also substantially completed MA degree in Social Policy and Administration the Goldsmiths College, University of London. He migrated to Australia in 1995 and completed his MA degree in Communication and Cultural Studies at University of Western Sydney in 1997. In 2011, he completed a profession Doctor of Creative Arts degree (in film production) from the same university. This involved making a documentary drama based his research thesis, which was on exile of the the Indian girmitiyas in Fiji. Dr Rai's had made a film based on his research – In Exile at Home – A Fiji Indian Story.
He started work on girmit research as a personal journey of self-discovery when he witnessed from his home in London the 1987 coups in Fiji unfolding on TV. He then realized that Fiji, his place of birth was no longer a home for him. He then looked towards the home of his girmitiya ancestors for a home and for his identity. The journey took him to India three times between 1994 and 2001, but he could find his roots in UP. It was not until 2004 that he finally visited his paternal grandmother's home in Balrampur (Utraula). (Recently, he became aware of his maternal grandfather's ancestral roots in Lakhimpur, Uttar Pradesh).
Frustrated with his first visit to India to trace his roots he wrote a paper called Discover Your Indian Roots and posted them to the Federal government and UP government. Around 1999 he read on the net that UP government had announced a project by similar name.
The ten-year struggle and four visits to India to eventually taste success provided him a good insight into the process of tracing roots in India. Therefore, in 2000 he launched a self-funded Discover Your Indian Roots Project and began assisting people to trace their roots. He has assisted many people to obtain the immigration passes of their ancestors (which contain valuable information regarding the girmitiyas) and guided them to find their roots in India; some were successful, others were not. He also personally travelled widely in UP/Rajasthan to trace roots, some successful, others not.
He now has a number of people working individually or as part of girmit organisations to assist him in this work. He initiated the first Girmit Divas in Sydney in early 2000 and later successfully organised Girmit Divas under International Girmit Congress Inc. Last year the International Girmit Association was formed in Australia. On his initiation, International Girmit Association of Fiji was formed last year; which organised a very successful Girmit Diwas in Fiji.
As the international coordinator if International Girmit Association he coordinates with individuals in USA, Holland and UK on girmit issues. In January 2016 he was invited by the Uttar Pradesh government (India) to participate in its inaugural Uttar Pradesh Pravasi Divas (UPPD) in Agra. On his initiation, UPPD held a session on Tracing Your Roots/Girmitiya; the first of its kind.
Dr Rai is now working on a feature film on the abolition of girmit as well as international events to mark the 100th anniversary of the abolition of the Indian indenture system (girmit)