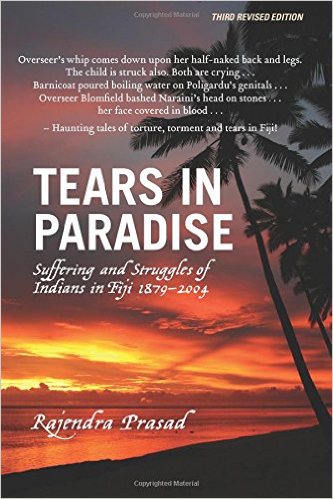 Rajendra Prasad's Tears in Paradise is now available at Amazon as an ebook for your Kindle or Kindle App on your iOS or Android devices.
I was very impressed with the Kindle edition of this book – the most convenient part is that I can flip to any page and read any bit as and when I want on my iPad. I must admit that although I am a bit believer in hard copy books, ebooks have made things a bit easier for someone like me who downloads every productivity app that is available.
"Tears In Paradise" itself is a must-read for anyone who has any association with Fiji. It's an eye-opener, a reminder of our past, and the influence it has had on our present. The Kindle version makes a good gift and of course a valuable addition to your Kindle or your Kindle App on your iOS or Android device. Download now, you will have a better understanding of our precious history in the palm of your hands. You can download your Kindle version from Amazon
The following is an excerpt from Amazon.
Tears in Paradise – Suffering and Struggles of Indians in Fiji 1879-2004 reveals the horrific treatment of Indian indentured workers (Girmitiyas) in Fiji by the British from 1879-1919. The indenture system (Girmit) under which they were recruited was slavery by another name.
Working and living conditions were so atrocious that Fiji had the highest rate of suicide in the world and the highest rate of infanticide among the colonies that deployed indentured labour.
Author, Rajendra Prasad, a descendant of Girmitiya grandparents, graphically captures the suffering, struggles and sacrifices of the pioneer generation, Overseers whip comes down upon her half-naked back and legs. The British had recruited 60,965 Indians to work in the sugarcane plantations in Fiji.
Deceit and deception were widely used in the recruitment process to trap the innocent, poor and ignorant peasants for countries they never knew or dreamt of going to. It tore their hearts when they realized that it was separation from their motherland. In 1882 when ships Berar and Poonah I set sail for Fiji, fifteen recruits jumped overboard and drowned. In the ships, many fell sick and some died of homesickness. In the fields, they worked for long hours and ritually suffered whips, kicks and sticks of the white Overseers. Women in an advanced stage of pregnancy were forced to work. Some gave birth in the fields and most were required to return to work within days of childbirth.
The Girmitiyas endured their suffering and captured them in different ways. This bidesia, a deep lamentation, was composed in the sugarcane fields of Fiji by an unknown Girmitiya. It captures their helplessness, anguish, anxiety and pain.
Kali kothariya ma biteye nahin ratiyaan ho,
Kiske batayee ham peer re bidesia.
Din raat hamri beeti dukhwa mein umariya ho,
Sukha re naynwa ke neer re bidesia.
Translated:
In the dark rooms (of the coolie lines), the nights are difficult to endure. Who do we tell the depth of our pains? Day and night of our lives are consumed in suffering. Tears have dried from our eyes